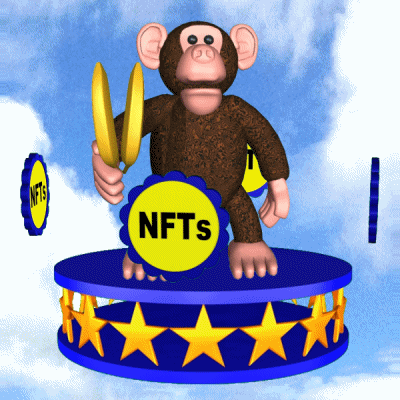 Many animated gifs are being used as NFTs but you will not find any of my work for sale as everything thing I make is free. Should anyone be tempted to convert one of my gifs to an NFT I can prove it is not yours as I have the original source file

Most of these animations have a transparent background so are handy for enhancing a webpage or creating a bigger animation in something like Photoshop or an online editor, I have created a selection of "meme" type animations using some of the individual animations from this website which I have posted onto Giphy and Tenor where they are getting Billions of views.
In some cases I have modified public domain images that I downloaded from www.wpclipart.com
A good collection of Original 3D gif animations
This website has a collection of gif animations that are truly original, all built in house and nothing scraped from other sites as many collections on the internet are. Have fun and use my work in any way you like including commercial websites but do not add to another online collection as I made these animated gifs and I like to exclusively display them. A link back to this website is always appreciated. If you like my gif animations and would like to help keep the development of this website going I have a PayPal donation button.
My animations are ideal for use in PowerPoint presentations

Most of my animations have a transparent background so they are ideal for use in PowerPoint presentations if you are using a light coloured background. If you want to put them on top of a dark colour page just send me a message and I should be able to optimise the image for you. I can also make the animation bigger with no pixilation occurring.

When and how I started

The website started many years ago, I did not make any 3D moving graphics to start with and only uploaded 3D jpeg images. A couple of American housewives sent an email and said that my work was very nice but why didn't I make some animated gifs from the 3D models that I had made. That was the start of hundreds of little moving images. In the early days they were very crude and did not have a transparent background but over the years things have improved and I have experimented a great deal and developed some special techniques. My work has a distinctive look about it and has not got the soft edges that are often seen with anything built in 3D Max for example