Free 3D Animated flower gifs
A collection of animated flowers, cherry blossom, hanging flower baskets, fuchsias, petunias, clematis, rose and even a lotus made over a period of more than twenty years.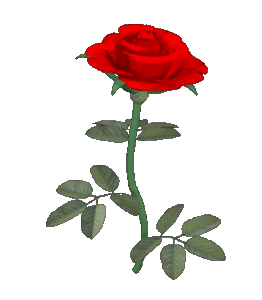 I love my animated flowers and Plants
You could always send someone special one of my virtual flowers, the single red rose animation may be the best but I'm not too sure they would appreciate a barrow load of petunias.
The red rose was the very first flower animation that I made and it was very popular at that time as the internet did not have many animations available and a search on Alta Vista (it was before Google was established) for an animated red rose would always place me at No 1.
Things have changed but I hope that my work has a different, maybe even old fashioned style about it and that it still appeals to people twenty years later. If nothing else it is keeping an old boys brain and fingers active even if everything else is giving up the ghost.
I once had our neighbours complain about the stinging nettles creeping in from my garden. It was many years ago and I now have a nice almost weed free garden with a nice display of flowers. It may be to do with getting old, I have retired and in between sitting in the garden in just my shorts, sipping Ouzo and ice and putting the neighbours off their food I intends to make this animated gif site even better with updated and new animations.
When I first started it was the days of the 56K modem and animations had to be tiny and small in file size and I only put a few animations to each page. My animations are now a lot bigger and better thanks to Broadband so I apologies to any of you who are using 56K modems and waiting for ever to download my stuff. These animated flowers are actually some of my larger ones but I try not to exceed the 1Mb mark.
Have fun with my gif animations, use them in your blogs, web sites, social media and for all your projects with no copyright restrictions, but please do not add any of my creations to websites that just simply display animated gifs scraped from the internet apart from Pinterest where it is easy to attribute this website to any of my animations